SBI Review- Is SBI (Site Build It) One of the Best Online Business Ideas?
Recommendations about the best online business ideas get searched thousands of times each day by people all over the globe. And this trend has been steadily rising since the economic meltdown our generation witnessed in 2007-2008.
That being said, I think women in general and moms in particular have always been on the lookout to start a business from home and work from home business ideas that make money.
What Online Business to Start?
Today I will be reviewing the SBI online home business plan for the benefit of all my readers. There are three reasons for writing a review of this home business model now.
First of them is that I have started a review category on this blog, only last month.
The second is that I had been recommending other online home based business models like starting a blog, freelance writing etc all this long, but now I realize that not all people who want to know how to start a online business are adequately trained or possess the skills to start a blogging or freelancing business.
The third reason is that Site Build It now has come up with an improved and totally revamped model now.
What is SBI or Site Build It?
SBI, Site Build It or SiteSell is many things, but basically it is a software or tool that helps start your own business.
I prefer to call it a business builder. You may ask how it helps to build your business. Well, it helps to kick start your website thru' which you can establish your business.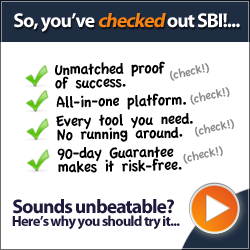 How is SBI Different from Starting a Website Using WordPress?
Good question. This is exactly where you realize the importance of using Site Build It or SiteSell. This tool provides all of the following stuffs for building your online home business:
1) Website Builder
2) Over 200+ Templates to Choose from
3) Hosting
4) Keyword Finder, Niche Finder, Search It and Advanced Brainstorming V 3.3
5) Traffic Building System
6) Trust Building Tools
7) Social Media Services Tool
8) Business Monetization Tool
9) Business Learning Tools
10) Complete Guidance and Support via Active Forum, Professional Guidance and Professional Services.
Why I Strongly Recommend SiteSell to Start a Business from Home?
I recommend this awesome business building tool to everyone who wants to start a business from home.
If you ask me, you should use this tool to build your very first online business, even if you know NOTHING about how to make money online or how to set up a website. If you know to read English, can view videos and have a burning passion to build a low cost home based business then this SiteSell is for you. 

The cost of purchasing SiteSell is not even 5 % of the total cost that you would incur if you were to buy all the tools and software that is provided to you along with the subscription.
For example, let us calculate the cost for hosting your website if you were to set it up outside the SiteSell package.
Hosting Without SBI
Even the cheapest hosting will cost you around $120 per year (unlimited domains, shared hosting).
Keyword Finder Tool Outside SBI
Okay now if you want to buy a decent niche finder or keyword finder tool you will pay anywhere between $95 and $145. Some plans are monthly recurring while some will give you lifelong subscription with updates for $ 97.
Now that itself totals to about $215 (lower range) and to $ 265 (upper range).
Buying 200 Premium Themes Outside SBI
Now if you needed 200 different premium themes to use, then you would pay at least $ 9000 @$45 per them.
SBI Advantage for Just $24/ Month
I have not even calculated the whole bunch of other tools that SiteSell provides to you for a measly sum of $299 per year. If you break it down it only comes to approximately $24 per month, which is affordable and quite a small sum by any measure.
The annual payment helps save $60 when compared to the monthly subscription plan priced at $29.99 per month.
USP of SBI
Which other business course or tool provides all the coaching, training, softwares and support that comes as a part of SiteSell to every subscriber?
The best part about SiteSell is that you do NOT waste time in learning to do business, because the system is so designed that you will be taught as you build your home based business.
For example, the first part in starting an online business is choosing your business. You obviously have to decide on a niche before you can build a business around it and earn money from it, right?
So as soon as you login your SiteSell, you have a dashboard that takes you to Brainstorm, where you can go either go directly to the research module to Brainstorm your niche or go to the Action guide module, where you will be given a detailed introduction and instruction on how to use all the tools to your maximum advantage. The best part is that ALL the instructions in every module have a PDF version, video version and mobile version.
Cons of Using SiteSell
Now that I have harped on so many great features of SiteSell, I must highlight its cons, if any. But I tried my best to find a disadvantage, but the only one I found is that the training is TOO detailed and exhaustive.
It cannot be called as a con by any means, because it is after all targeted to help any and every person start an online business, even if they possess zero online business skills or knowledge.
My Final Verdict
I am pleased to give SiteSell 9.8/10 and I honestly feel it tops the list of best online business ideas that are available now. In case you are still not convinced, and do not want to take my word for it, there is absolutely no problem. Just ignore everything you read in my review above and review SiteSell yourself.
But honestly speaking, I really have not found another tool like SiteSell to help anyone start their own successful home based business, so I would recommend that you try it at least once.
The best part is that you can TRY the fully functional version of SiteSell at a 90-day REFUND trial offer. So you can use all the wonderful tools, learn all the nitty gritty of setting up an online money making business and in case you are not satisfied despite using it for 90 long days, then you can claim your REFUND (100 % ) money back.
Now who would be so foolish as to let a 100 % risk free, 100 % refund offer, valid for 3 months, go waste without giving it a try? Click here to get your 100 % risk free trial offer started right now: