Blogging: Passion or Profession?
Should blogging be indulged in as a passion or profession? This is the commonest doubt crossing every newbie blogger's mind.
While most of the other experts might say that if you want to make money blogging, it is better to treat it as your profession; I suggest combining both passion and profession together. What is blogging without passion?
But before you rush into conclusions, let me remind you that passion alone will not help in monetizing your blog. You need to have a professional approach to channelize your passion and once you succeed in doing this, you can look forward to many years of successful blogging that yields five to six figure incomes.
Blogging Only for Passion
It is great to be passionate about your blog and many bloggers I know treat their blogs like their own children. They are ultra possessive about it and would never ever think of monetizing their blog even in their wildest dreams. These bloggers blog only for themselves and mostly use the blog as an outlet for their interests and hobbies. I have no issues with these ultra passionate bloggers; they are right in their own way. But the question is; do you want to be like them?
If you are considering taking up blogging just for fun or just as a hobby or means to display your hobbies, then I wish you all the very best. You can actually stop reading this post at this point as I have no advice to give you; you are already doing the best for your blog.
Click to see how your hobby / passion can make money for you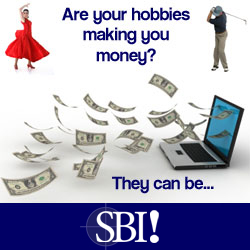 But if your aim is to develop your blog in such a way that it soon starts generating income for you, then you should definitely read further. I have lots of suggestions and tips for bloggers like you.
Blogging Only for Making Money
There is the other side of the coin, where people start a blog with the sole intention of making money. Nothing else matters to them, and the niche they have selected is purely on a money making basis. These bloggers may not even be remotely interested in their topics or niche, but are great hard workers and are maintaining their blog in such a way that it earns money for them.
On first impression, this kind of attitude may seem to be the best to many people, but I am sorry because I have a different opinion about this. Money can be made in several different ways, but the actual fun is when you get to combine your passion with your money making process.
My opinion is that there is no fun in making money without enjoying what you do. If it's just money you are after, why not take up a 9-5 job? Being a citizen of the cubicle nation, does not seem appealing to me. If you too share a similar opinion, then read further. The best is coming up.
Blogging by Combining Passion and Money Making
When people think of blogs, they immediately narrow down their minds. For majority of the folks they mean places to get info on blogging tips or make money online tips. Because of this narrow understanding about blogs, such people say that blogging is not for us. 'We do not know anything about such topics, so we cannot belong to the category of bloggers who earn while doing things that they love'.
No, it need be that way. When you are planning to set up a blog, the foremost thing you need to do is to sit down with a list of at least 10-20 topics that interest you. Please read my previous post on choosing a topic / niche for your money making blog to understand better.
Select the most profitable niche out of these and you are good to go. You could be passionate about food, cooking, health, fitness, finance, gardening etc. Whatever are your top 10 / 20 interest, shortlist only the profitable ones and then start blogging on the niche that has the maximum income potential.
This way you can combine passion with your money making process and enjoy blogging as well like I am doing now!